Linq Apartments
Cnr Eastern Valley Way & Veryard Lane, Belconnen, ACT 2617
Two multi-unit residential buildings will be arranged around a 2.5 hectare north-facing park. Buildings will be of varying height to provide visual interest and achieve appropriate interface, solar access and privacy. The design provides a high-quality but cost-effective multi-unit development with a diversity of unit types to accommodate students, couples, young families and retirees.
The mixture of single and two-storey apartments that make up the nine-storey buildings are designed to passive ESD principles to maximise solar access, ventilation, day-lighting and privacy.
The landscape design responds to the built form and reflects ecologically sustainable development principles to provide a pleasant and safe outdoor living space for residents and the community. The landscape clearly delineates private and public zones. The central park will be secure – accessible only by residents and their guests. A perimeter pathway enables a lengthy walk around the gardens. Podium gardens on Level Two overlook the central park and provide a secondary outdoor space. This area may include BBQs and pergolas.
About
If you desire a walking or cycling lifestyle, Linq could be for you. Located in Belconnen Town Centre, this development offers a variety of apartment living options close to a wide variety of retail, recreation, education and employment options.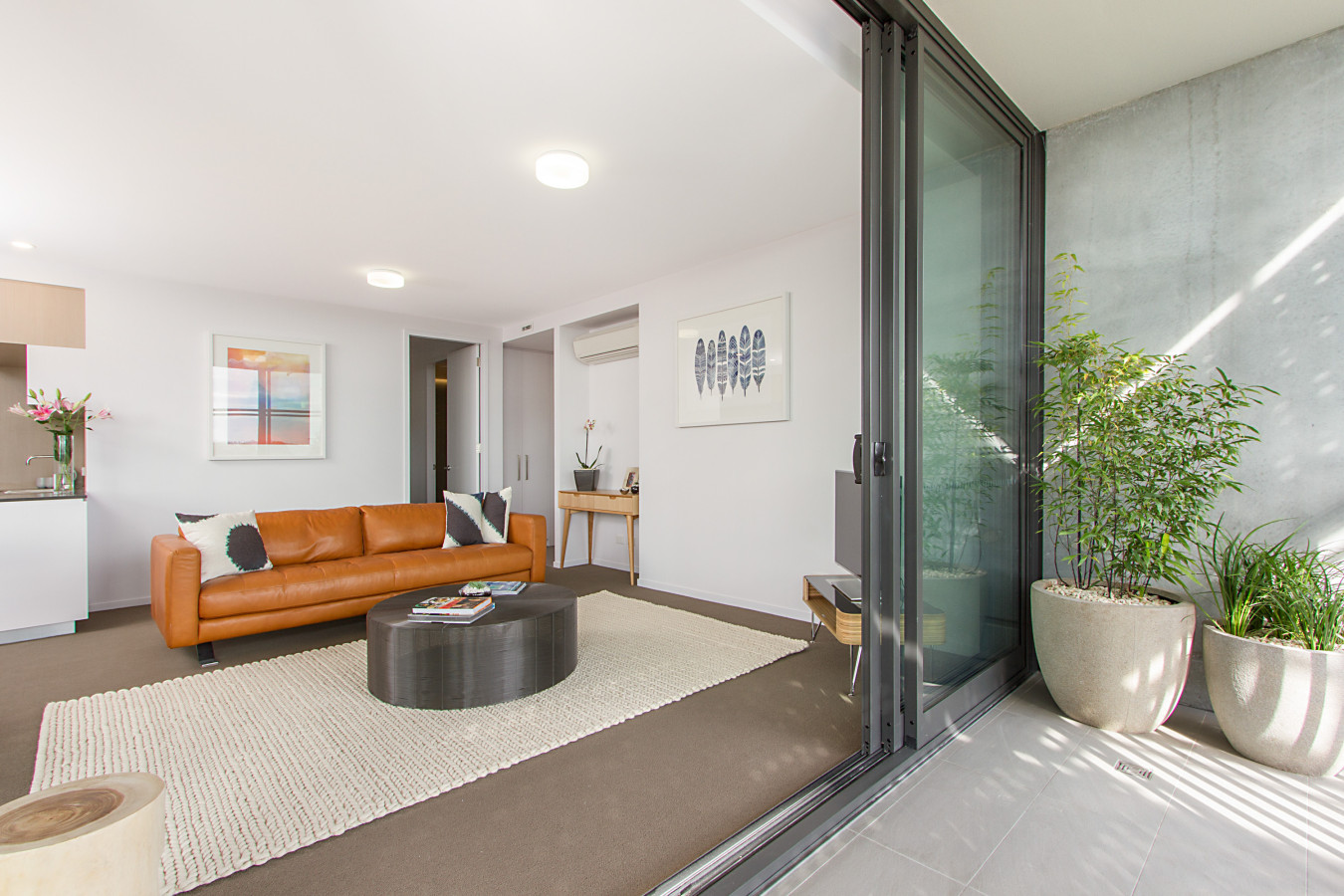 Linq is within easy walking distance to the Lake Ginninderra foreshore, markets, shopping, cinemas, cafes, bar, restaurants and galleries
Linq has easy access to nearby parklands and the Lake Ginninderra foreshore. Markets, shopping, cinemas, cafes, bar, restaurants and galleries are all within easy walking distance.
It is also very close to many major employers and leading educational institutions, including the University of Canberra, Canberra Institute of Technology, Radford College, Ginninderra College and Canberra High School.
In addition, Linq is just across the road from CISAC (the Canberra International Sports and Aquatic Centre), which has Canberra's best swimming facilities and one of the city's best fitness centres.
Belconnen Town Centre is also a central transport node. Bordered by major roads. it has several bus stations, as well as good access to Canberra's extensive cycleway network.
Built in 2014 by Creative Building Services.
Details
Address:

Cnr Eastern Valley Way & Veryard Lane, Belconnen, ACT 2617

Block & section:

Block 15 Section 45 Belconnen

Area NLA/GFA:

TBA

Parking:

Secure basement and visitor parking onsite

Floor plans:

1, 2 and 3 bedroom apartments

EER:

Average 7 Star

Gym:

Yes

Pool:

Yes
Enquiry
Please contact George Cassimatis on 6162 9800 for further information.